Excel/PowerPoint/Word Web App cannot open this document for viewing due to an unknown error
​Once Office Web Applications are set up it's pretty reliable. You go to SharePoint, click on a document, and all the heavy lifting happens on the server. You don't need Office installed on your computer because it is all handled in the browser. And a real bonus is that you can use it on tablet devices from, er, a variety of manufacturers and platforms. Including the popular ones.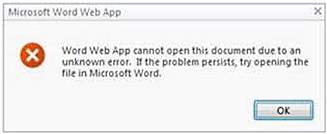 But it can be a real pain to get it all set up in the first place, and the most likely thing you are going to see is the error above. There are a few variations on this error message that you might see, including: "Unable to process the request; An unexpected error has occurred"; "PowerPoint Web App encountered an error. Please try again"; "OneNote Web App cannot open this notebook because the Office Web Apps Feature isn't activated on this site collection. Try opening the file in Microsoft OneNote"; "The file that you selected could not be found. Check the spelling of file name and verify that the location is correct. Make sure that the file has not been renamed, moved, or deleted.​"
And as usual, the error message doesn't give you too much of a clue as to what is causing the problem. So here's a checklist of the things that could be causing it (applies to SharePoint 2010):
Make sure that the Word Viewing Service is running somewhere in the farm
Make sure that the Word Viewing Service Application and its proxy are configured
The office web application service account needs to have access (i.e. db_owner permissions) to the content database.
If you find yourself in a situation where the Office documents are opening in the client applications instead of in the browser then check that the Office Web Apps feature has been activated for the site collection, and also that the "Open Documents in Client Applications by Default" feature is NOT activated.​