Remote working with Microsoft Teams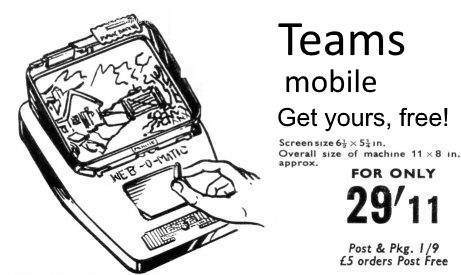 At the time of writing this, the Coronavirus catastrophe is playing out like the plot of an apocalyptic Hollywood blockbuster. Borders are closed, air travel has ceased, and whole industries have come to a standstill. Not so the world of information technology, which has become more important than ever. Now we are all being told to stay at home and to self-isolate, and practice the new art of social-distancing.
With so many people working from home, a lot of businesses have taken a renewed interest in their Microsoft Teams licences, or have decided to consider Teams for the first time. Microsoft has taken some steps to make Teams available to as many people as possible. This includes some very generous licencing offers and a lot of effort behind the scenes to ensure that Teams can scale to a much larger, and possibly temporary, growth in usage.
Of course, if your organization already has an Office 365 licence you already have Teams. But even if you don't already have it, you can still make Teams available in your organization. There's an offer of a free 6 month licence of Office 365 E1. To get this, you'll need to go through a Microsoft Partner or for large organizations with a direct account you can contact your Microsoft sales representative for more information. If you are an educational institution you can already obtain an Office 365 A1 licence free of charge by going to the Microsoft website.
Getting Personal
You can also set up Microsoft Teams as an individual. As long as you have a Microsoft Account (in other words a Microsoft consumer account; e.g. Hotmail or Outlook.com, as opposed to a work and school account which is what you get with Office 365 or, more accurately, Azure Active Directory) you can add Teams to your account if you don't have it. Even if you have a non-Microsoft account such as Gmail, you can set up Teams by going to the Microsoft Teams product page and following the sign-up link.

Note that web pages change frequently so the dialogs may not exactly match these screen grabs. Once you enter your email address you'll get to choose how you want to use Teams. At the time of writing (late March 2020) the options are "school", "friends and family" or "work". If you choose "friends and family" they take you down the Skype consumer route, which is another option, but not Teams.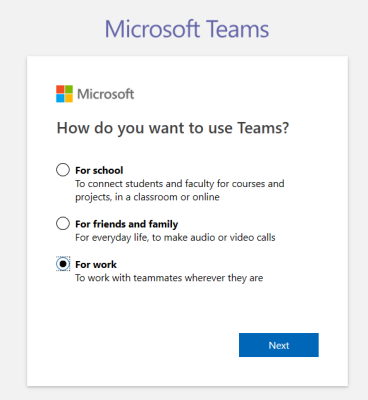 When you sign up you are effectively creating a Microsoft Account if you didn't already have one. It doesn't matter if the email address is a Google or other account, that's just the account name, and of course it has to be unique. This can be a source of confusion if you already used that name for an existing Microsoft Account.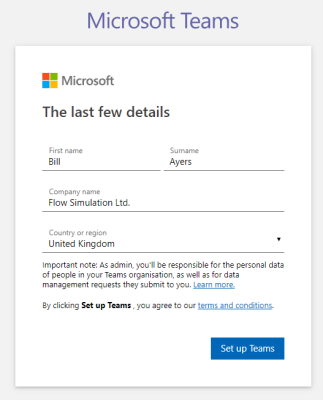 Once Teams has been added to your account, you'll get a choice of downloading the client or using Teams on the web. I suggest you use the second option, at least initially. Once you are in Microsoft Teams on the web, you'll be offered a link to download the Teams client software. This is available for most desktop platforms and mobile devices (except, notably, Windows Phone for those few brave souls still battling on, like me). The desktop client looks almost identical to the web version because, well, it is the web version as an HTML5 hybrid application. You can use either, although you might see a few more features in the desktop client than in either the web or mobile versions of the application.
If you need to get back to Teams on the web you can use the URL: https://teams.microsoft.com/ and log in with the correct credentials if asked. Remember that this is the free version of Teams, although Microsoft are currently enabling a lot of premium features in the free version, at least until the end of 2020, to help people who are having to work remotely because of the Coronavirus. If you want more features, such as scheduling meetings, you can upgrade to one of the many paid licences (although this feature is planned for the free version, at least temporarily).
Now you have Teams working you can start using it to make calls, chat, share files and make video calls. If you haven't used Teams before it will take some time to get used to, like any software product. Luckily there's some great documentation to help you get started. Initially you can use the start page mentioned above and perhaps download the quick start guide, or go to the Microsoft documentation, including some information specifically for working from home. But there are also numerous introductory articles on the Internet, written from users' perspectives, that are sometimes easier to use in order to find out how to get going. For people administering Teams for their organization, there is comprehensive documentation on the Microsoft site.
Teams Under Pressure
One of the worries people mention is whether Microsoft Teams will be able to support increased usage during the Coronavirus pandemic. I can say from having personal experience of participating in a Microsoft three-day conference earlier this month, with thousands of participants around the world, that Teams is holding up very well, with almost no issues. The infrastructure behind Teams is engineered to scale up to multiples of current usage because it is using the same technology as Azure, or in some cases is built on Azure. These datacentres are truly enormous, and there are dozens around the world to give scalable compute resources and resilience against power outages and natural disasters. There are automated failover mechanisms at both the hardware and software levels. Of course everything is dependent on the public Internet and telecommunications network, but that's true of any technology.
Of course no technology is completely fool proof, and not every possible failure can be anticipated. But you can be sure that Microsoft Teams is as reliable as any technology can be. I expect it will be put to the test over the next few months, with tens, if not hundreds of millions of new users. Once people get into the habit of using these new tools, and if everything works well, they won't rush back to the old ways of driving and flying to meetings when this is all over. Tools like videoconferencing seem to have been on the cusp of wide adoption since the 1960's. I suspect the current enforced change in working practices will finally make it mainstream.